You have reached the Simple English edition of the article. Welcome!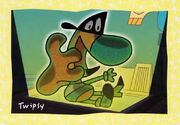 Twipsy is a living spark of energy who lives in cyberspace, since it was created in 1969.
He was designed by Javier Mariscal in 1995 as a mascot for Expo 2000, a World's Fair in Hannover, Germany. A book called Kleine Helden: Little Heroes[1] had Twipsy, and fifteen other runner-ups.
History
[
]
From the book, Kleine Helden, Twipsy was designed by Javier Mariscal in 1995, and was the winner of a contest for the mascot of the Expo 2000[2]. Because the Expo's theme was "Man, Nature, Technology", Twipsy was given a unique shape, to become a new type of being, a cross of the three.
Also, Twipsy matched the logo of the Expo (especially his large right hand), and is able to change shape and colour, to be a playful partner for it as well. In Kleine Helden, Twipsy was displayed in different growing states: a spark, a cell, a simple figure on legs to his fully grown form.
As soon as Twipsy became the official mascot, rules were in place to make sure Twipsy looked his best. For instance, Twipsy was not allowed to wear a t-shirt bearing the logo of the Expo, let alone have any part of the Expo logo on himself.
Mascot career
[
]
During the Expo 2000, Twipsy appeared as plush toys, on t-shirts and hats, and even on spoons and mugs. He appeared on stamps and coins that celebrated the Expo. On the official website, it was possible to chat to Twipsy and ask questions about the Expo. Twipsy was played by the ChatBot software server there.
Spaceflight
[
]
To promote the Expo, Twipsy was the first plush toy to go to space on two separate trips: one to the Russian MIR Space Station with Russian cosmonauts Sergej Saletin and Alexander Kaleri on 4th April, and a month later, to the International Space Station with a team of US astronauts, launching from Cape Kennedy Space Center. Unfortunately, the trips proved expensive, costing 100,000 Deutsche Marks at the time.
How did he do?
[
]
When he was selected as the official mascot of the Expo, Twipsy only has 1% of the total public vote, although it was different to the jury vote who had him on first place. Public reaction say that he was too ugly or confusing.
When the Expo opened on June 1st 2000, chancellor Schroeder appeared friendly to Twipsy, yet did not want to pose for photos. But Twipsy somehow got good attention: some guests and some children, liked Twipsy as the mascot.
The Expo attracted 18 million visitors, less than the 40 million expected to arrive. Souvenir shops sold little of the products because of mixed views on Twipsy.
Legacy?
[
]
There is a Twipsy statue in Hannover Park, and a similar one is seen in the Hannover Messe fairgrounds. There is a kindergarten named after him too. However, Twipsy remains little known because of his weak status as a mascot, and the weak performance of the Expo.
However, Twipsy has not been forgotten. An organisation called the EXPOSEEUM has a museum that focuses on the Expo 2000, at the Expo-Park area in Hannover, and in turn participates in most events in Hannover. A costumed Twipsy can be seen each year in the Schutzenfest annual march in Hannover.
Profile
[
]
Twipsy has
a striped teardrop shaped body able to change shape like a bag of water
a moon-shaped head with a dark forehead, white eyes and a large round nose; his head can move from left to right, forward and backwards easily.
a little knob behind his head, his "ear"
two different arms: a small left arm with a white glove, and a large flowy right arm, looking like a wing
he wears two different shoes: a man's shoe and a woman's high-heeled shoe.
Twipsy is often seen in different colours in most media for the Expo, but not in the cartoon series. In the book, Kleine Helden, Twipsy was able to turn dark and have spots when he was grumpy or angry.
What can he do?
[
]
He can change shape, such as Champ, the Walker's family dog, as a disguise.
In "Welcome to Cyberspace", he can make electromagnetic waves, to free Nick and himself from the police block.
His large orange arm is flexible - at will, Twipsy can stretch his arm to reach high places, and even twist and wind his arm.
Twipsy has the ability to fly and levitate, mostly in cyberspace
Personality
[
]
As a mascot, Twipsy is shaped the way he is to fit in with the Expo motto: Mankind, Nature, Technology. Mariscal also explains that Twipsy is said to be "...wild and unpredictable as an animal, it laughs and feels like a human, but is also precise and calculating like a machine". Another site describes Twipsy as "...a bit crazy and a extremely playful, a bit cheeky, very judging... and very amusing - all in all, a lovable open character with some rough edges."
In the TV series, adding to Twipsy being playful and up for mischief, he is loyal and dedicated, and also protective. He has also shown empathy and developed emotions, and able to befriend anyone, whether from an ordinary bedside lamp to a fish he named Wanda.
Information
[
]