Jurassic World: Dominion Dominates Fandom Wikis - The Loop
Play Sound

Twipsy is an abstract energy burst being, said to be living and working in cyberspace since its conception in 1969.
He was designed by Javier Mariscal in 1995 as a mascot for Expo 2000, a World's Fair in Hannover, Germany, as documented in the book, Kleine Helden: Little Heroes[1], about the competition.
Development
[
]
Initial History
[
]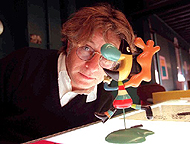 Conceived and designed by Javier Mariscal in 1995 during a competition, Twipsy was chosen out of seventeen entries from invited artists as the official mascot of the EXPO 2000 World's fair[2], held in Hannover, Germany. Keeping in tune with the expo's theme of "Man, Nature, Technology," Twipsy was designed as an abstract being with a unique morphology.[3] Mariscal cites that it was his intention to "...embody the triangular aspects of the key theme "Humankind - Nature - Technology" in one figure... therefore [Twipsy] resembles a new type of being, a new human-animal-technological species."[4]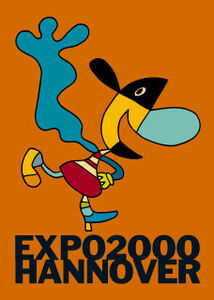 With regards to the contest rules, Twipsy was nominated as he "...harmonise[d] with the corporate design of [the EXPO], be adaptable in terms of shape and colour, and be a suitable playful and informative partner for the EXPO logo." He also met the criteria for symbolising the EXPO's main focus, "Mankind, Nature, Technology", and he was presented in several stages in Kleine Helden: Little Heroes in multiple evolutionary stages - a spark, an amoeba, a simple figure on legs and a fully developed form.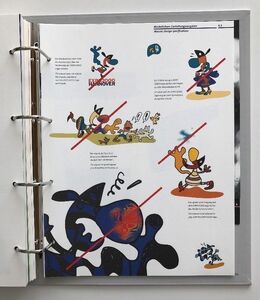 During the course of further developing the character for corporate use throughout Expo documentation,[5] specific guidelines were put in place to ensure Twipsy appeared as optimal as possible. For instance, Twipsy was not allowed to wear a t-shirt bearing the brandmark of the Expo, let alone have any part of the Expo logo on his being.
Prominence
[
]
During the course of the Expo 2000 world exposition, Twipsy was featured on merchandise as an icon, in plush form (and notably in other different outfits[6]), on apparel (shirts and hats), and even on collectable spoons, mugs and so on. He also was featured on stamps (Cuba, Bosnia-Herzegovina) commemorating the expo.[2] On the official Expo 2000 website, one can even ask questions on the World Exposition, as well as informally chat to Twipsy through the chat feature, in which he is played by the ChatBot software server.
Promotional Spaceflight
[
]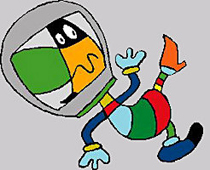 In addition to promoting the World Exposition, it is confirmed that Twipsy, in his plush toy incarnation, has been airlifted with cosmonauts cosmonauts Sergej Saletin and Alexander Kaleri, to the Russian MIR Space Station to promote the Expo. The flight happened on 4th April, and by whimsy, officials cite Twipsy as "the first plush Cosmonaut" at the time of the launch. A month later, Twipsy again in plush form travelled to the International Space Station with a team of US astronauts, departing from Cape Kennedy Space Center. Both flights were organised by INTOSPACE GmbH which worked together with the Expo organising committee. However the space flight was much to some chagrin, as it cost 100,000 Deutsche Marks according to Hannover Court. [7]
Plush Toys
[
]
There were two kinds of plush models on offer - the standard model from distributor IGEL, and the fuzzier model distributed by the EXPO.[8] As the EXPO was meant to be a global event, other plush models in different models were also offered, primarily by IGEL.[9] Sizes ranged from tiny keychain ornaments, through to large plush models up to over 1 metre tall.
(See Twipsy/Merchandise.)
Animated Series
[
]
To help young audiences get acclimatised with the spirit of the expo, an animated series was in production and released in late 1999, with 52 episodes in one single season. The series was sold to 90 countries, including the host nation Germany.
Tying into the series, a series of books were published, each titled and containing the selected episodes as follows:
In addition, four audiobooks released on compact disc and audiocassette have been released, each being narrated retailing of the episodes. Each one contains the following episodes as follows
Reception
[
]
With respect to his nomination as official mascot for the Expo, Twipsy only received a total of 1% of the total vote, in contrast to the other entrants. Kleine Helden documents that the public vote and the jury vote were separate and therefore very different. Reactions were mixed amongst the public - some say he was either ugly or too abstract; some members of the public were confused as to what Twipsy actually was.
At the opening date of the Expo, Chancellor Schroeder was said to have expressed his sympathy towards Twipsy, yet he refused to pose for the cameras sitting in a colorful chair designed by Mariscal.[10]Despite the confusion and general insecurity, Twipsy proved somewhat likeable to children and some guests.[11]
Despite merchandising and publicity opportunities,the Expo attracted 18 million unique visitors - a fair attendance rate far from their projected goal of 40 million at maximum - souvenirs still hung onto Twipsy merchandise due to low sales and some distrust of the character.
Legacy
[
]
Twipsy has a monument somewhere in a Hannover park[12], as well as one in the Expo Park territories of Hannover Messe fairgrounds. He also lent his name to a kindergarten in the Hannover area. However intentional the preservation of the memory of the Expo, Twipsy still remains obscure due to the mixed reception of both his status as official mascot, and the Expo's weak financial performance from low attendance.
However, not all hope has been lost. Every year during the Schützenfest in Hannover, an organisation called the EXPOSEEUM participates in the march, usually with the costumed Twipsy. The EXPOSEEUM also has museum space in the Expo-Park area in Hannover, and hence still may have some keepsakes with Twipsy's likeness on them; in the main room, a large Twipsy plush would often greet visitors.
Throughout the month of August 2019, the EXPOSEEUM was involved in one of Henrike Naumann's art exhibits, specifically "Mensch. Natur. Twipsy" at the Kunstverein Hannover.
Profile
[
]

Description
[
]
Twipsy is abstractly shaped with a striped teardrop shaped body, said to "...change shape as easily as a bag full of water"[4]. He bears a demilune head with a dark mask banding his cream wide-awake eyes and a large turquoise nose; the mask around his eyes, the pseudo-ear on the back of his head and chin are black, or another dark colour. Rather than sitting rigidly on its neck, it is said that Twipsy's head is capable of moving in all directions and can turn and swing free, meaning he is flexible.
He has two differently shaped arms - a smaller left arm and a larger, orange right arm, resembling a wing, both bearing three fingers. He has two short legs and he wears two different shoes on each foot - a flat heeled man's shoe (a sneaker) on the right, and a sharp heeled ladies' shoe on the left.[2] Sources say that his leg with the flat heeled shoe is monotone in contrast to his leg with the sharp heeled shoe.
He is frequently portrayed with multiple horizontal stripes on his body. In some types of merchandise, Twipsy is frequently portrayed in different colours. Although not demonstrated in the series, Twipsy is able to change colour, skin, exterior and shape according to his emotions and moods. Supporting this, according to conceptual development published in Little Heroes, Twipsy tended to turn dark and develop stains and spots when grumpy or angry.[1]
| | | |
| --- | --- | --- |
| | | |
| A block falls on Twipsy | Twipsy also remains dark and splotchy when scared | Twipsy turns dark and splotchy when angry |
Abilities
[
]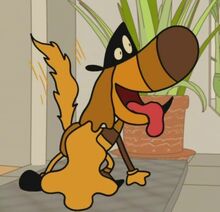 He has shown an ability to metamorphise to another life form, such as Champ, the Walker's family dog.[13] This backs up a postcard quote, "I can be anything you want".[14]
In "Welcome to Cyberspace", he also has the ability to transmit and radiate electromagnetic waves, to free Nick and himself from the police restraint.
His large orange arm is flexible - at will, Twipsy can stretch his arm to reach high places, and even twist and wind his arm in some cases.
In lots of Expo 2000 media, Twipsy has the ability to fly and levitate. This was more demonstrated in cyberspace than the real world in the series.
Personality
[
]
Documented in an official Siemens webpage explaining the character, the fact that Twipsy embodies the "Man-Nature-Technology" aspect of the Expo explains why Twipsy is shaped and proportioned the way he is.[15] According to Mariscal, Twipsy is said to be "...wild and unpredictable as an animal, it laughs and feels like a human, but is also precise and calculating like a machine".[16] Another site describes Twipsy as "...a bit crazy and a extremely playful, a bit cheeky and very shrewd, sometimes critical and very amusing - all in all, a lovable open character with some rough edges."[17] Some sources say that he is "...usually bubbling with good humour."[4]
On observation in the TV series, despite being mischievous, he is loyal and dedicated, and also protective. He is also empathetic and emotional, and able to befriend anyone, whether from an ordinary bedside lamp[18] to a fish he named Wanda.[19]
Running Gags
[
]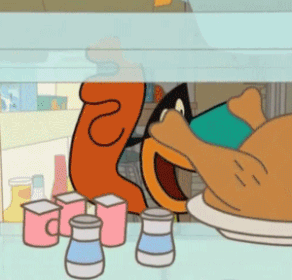 A running gag is that Twipsy is fond of "real world" food[18] [20], and often risks getting caught in Mr Walker's traps to raid the refrigerator to eat lots of it[21] . One episode also specified that he too can get bellyaches, and at worse, a running fever. Similarly, he also has eaten other objects, for instance, the entire tray with the cookies.
Notable Quotes
[
]
Pronounciations in Other Languages
[
]
Naming Twipsy was the biggest challenge ever undertaken since his nomination as the official mascot, and therefore he was meant to be a global icon for Expo 2000. Throughout the three intensive months of research, he was named by Manfred Gotta, who aimed to have an easily pronounced yet globally accepted name for the mascot - in fact, he 'had to check 35 Swahili dialects'[22]. At the time, then head of Corporate Design for the Expo, Rainer Schilling, explains that Twipsy "... is a new word [that is] easy to say for people from all countries, and is not insulting in any language." For this reason, among past name decisions, his original name, Exposito, was not considered as in Spanish, it means 'foundling' (abandoned by own parents and adopted). [4] Note that some versions of his name may be based on estimation.
| Language | Written | Pronunciation | Additional |
| --- | --- | --- | --- |
| Hebrew | טוויפסי | Tooifsi | |
| Chinese | 托普西 | Topsy | (sometimes translates to PC Wizard - "网络精灵") |
| Japanese | トゥイプシー  | To~uipushi | (Phonetically similar to トゥイプチー, Dui buqi = "I'm Sorry" in Mandarin. Hence the different name in Chinese.) |
| Russian | Твипси, Твипсы | Tvipsi, Tvipsy | |
| Hungarian | Twipsy | Tvipszi | (The Hungarian language is pronounced and written some other way) |
| Korean | 트윕시 | Teuwibsi | |
| Persian | توییپسی | Tvyypsy | |
| Polish | Twipsy | Tłyp-Si, Tłip-Si | (The Polish language is pronounced and written some other way) |
| Italian | Twipsy | Tuipsi | (The Italian language is pronounced and written some other way) |
| Greek | Τουίπσυ | Touípsy | |
| French | Twipsy | Touipsi | (The French language is pronounced and written some other way) |
| Irish | Twipsy | Tbhipsí | (The Irish language is pronounced and written some other way) |
Voiced by
[
]
Language
Actor
Notes
German
Lutz Schnell
English
Dan Russell
Korean
Son Won-il (손원일, actor)
Spanish (Castillian)
Ariadna Jiménez
Female voice actor
Hebrew
Moses Foerster (פרסטר טוויפסי)
Hungarian
Kornél Pusztaszeri
Polish
Mirosław Wieprzewski
Italian
Massimiliano Alto
Portuguese (Portugal)
Carlos Macedo
RTP dub
Peter Michael
Santa Claus dub
Finnish
Juha Paananen
Trivia
[
]
References
[
]
Also Available In Other Languages
한국어 •

English